Pay at the Pump Payment Processing with Terminus Payments
Understanding the individual needs of petroleum and convenience store customers, our payment processing/pay at the pump solutions are tailored to meet each individual customer's specific needs. They seamlessly integrate with all of the latest pay at the pump terminals and POS systems and enable immediate acceptance of all major credit cards including debit and fleet cards such as Wright Express, Voyager and the Fuelman Card.
Hardware and Certification for Petroleum
Terminus Payments works with a variety of leading providers of point-of-sale and processing solutions engineered specifically for petroleum and convenience stores including: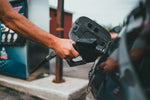 Verifone Commander
Verifone Ruby / Topaz / Sapphire
Gilbarco Passport
Gilbarco G-Site
Wayne Nucleus
ComData Smart Solutions
ComaData Smart Desq
Fiscal
Fuelman
OPW PetroVend FSC3000
Micro Node 1400 Datawire
Micro Node 2800 Datawire
FD130 & FD35 Pin Pad
FD-150 & RP10 Pin Pad
Why Choose US
Terminus Payments is committed to creating customized solutions to meet your individual business needs. Not only do we have the latest technology and product offerings, we also possess the strategic insight and expertise to help you maximize the potential for your business, without spending too much.
We are the Petroleum Experts!